Burnham-on-Sea lighthouse trail created by arts group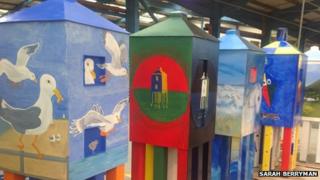 A trail of 33 model lighthouses is being put up around a Somerset town by a local arts group.
The trail is being created in Burnham-on-Sea for cancer support charity Petal, run in memory of Christine Woodberry who died of cancer in 2008.
Organiser, Sarah Berryman, said: "We have a small trail around Burnham itself and then with the ones further outside you might need a car."
The lighthouses will be sold off at the end of the event.
Ms Berryman said: "We were hoping to raise a couple of thousand pounds with a small local trail but it has built since then.
"We initially planned on about 10 or 15 lighthouses and now we have got 33.
"We've already had a few a bids for them - we're having offers in the region of £400 or £500 and that's a starting bid."
The event has been organised by the Highbridge & Burnham Artists Community Art Project.