Weston-super-Mare sand sculptures attacked by vandals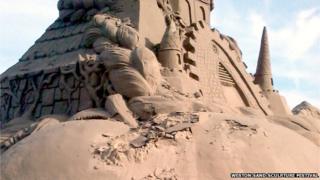 Vandals have once again attacked sand sculptures created for public display on a North Somerset beach.
Three of 30 sculptures have been damaged with the Weston-super-Mare Sand Sculpture Festival organisers putting the cost at thousands of pounds.
Two years ago several of the sculptures at the annual festival were smashed.
Resident sculptor Rachel Stubbs said it was "extremely frustrating" that people would set out to damage in a matter of minutes what can take weeks to create.
The break-in this year triggered a 24-hour security system, which was implemented after the damage in 2012, and organisers believe further damage was prevented by a quick response from security staff.
Festival organiser Cindy Lap: "It is very sad that this proves to be necessary, but we are happy that the system works."
Pictures of three men were captured by CCTV cameras and close-up photos have been generated and handed to police, the organisers said.
An Avon and Somerset Police spokeswoman confirmed detectives are investigating "an incident of criminal damage" which took place during the evening of 3 May.
"Anyone who was in the area between 6.30pm and 11pm is asked to contact police," she added.