Somerset barn owl webcam: Seventh egg hatches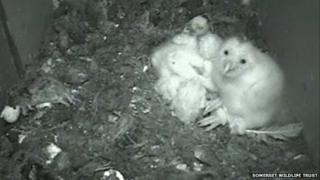 The final egg in a clutch of seven laid by barn owls in a nesting box in Somerset has hatched.
The box, which includes a webcam, was installed by Somerset Wildlife Trust (SWT) and the Hawk and Owl Trust, and has had almost 300,000 hits worldwide.
The two trusts, which are tackling a decline in the barn owl population, aim to set up 335 boxes in the county.
The seventh owlet has been named Burrowbridge - after a village flooded on the Somerset Levels.
A SWT spokeswoman said it was delighted all seven eggs had hatched successfully.
"The level of interest has been quite overwhelming and it shows how much people in Somerset, and indeed from across the world, care about wildlife.
"Our webcam bloggers are doing an amazing job in keeping track of what's happening in the box, sharing information and photos, for many more people to enjoy."
SWT said the webcam had had more than 290,000 page views, with people logging on from countries including Japan, Fiji, Russia and Brazil.
One viewer, Audrey, said in the comments section she had "neck-ache last night from so much owl watching".
The breeding pair, named Brenda and Boris, moved into the box in November.
Their first chick was called Bard after hatching on Shakespeare's birthday on 23 April.