HMS Somerset seizes £8.5m heroin haul in Arabian Sea raid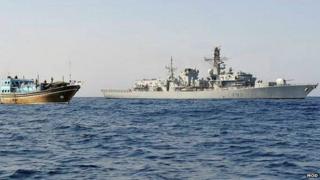 The Royal Navy has seized heroin with an estimated value of £8.5m in a search of a boat in the Arabian Sea, the MoD has confirmed.
Nearly 60kg of the drug was confiscated from a suspect fishing boat and later destroyed by sailors and Royal Marines from Plymouth-based HMS Somerset.
HMS Somerset's Lynx helicopter was launched to intercept the boat.
Teams then spent 23 hours searching before finding the contraband hidden under a false deck.
The drugs were brought on board HMS Somerset where they were tested for purity before being destroyed.
Commander Mike Smith, Commanding Officer HMS Somerset said: "Courage and teamwork were central to halting this shipment.
"I am incredibly proud of what my team has achieved."
Royal Navy Commodore Jeremy Blunden said: "I am delighted that HMS Somerset has made this interception.
"This is the ninth seizure of heroin made this year as part of a determined effort to combat both the flow of heroin across the Arabian Sea and Indian Ocean to East Africa and funding to terrorist organisations."