Bath's proposed £2m traveller site given go-ahead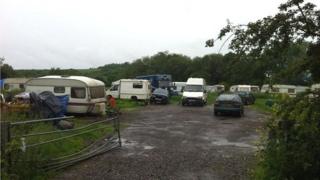 Plans for a travellers' site on greenbelt land on the edge of Bath have been given the go ahead.
It is understood the cost of the site, just off the A36 Lower Bristol Road in Twerton, will be about £2m.
The plan was approved with eight councillors voting in favour, one against and four abstentions. Concerns about the cost were raised.
Bath and North East Somerset Council has been told it must provide a total of 42 travellers sites by 2016.
The meeting of the council's development control committee heard the authority currently had no travellers' sites but had a statutory obligation to provide them.
Councillors were told that about £2m had been put aside for the site but many felt this was too much.
The site is already being used illegally by travellers and plans include 13 pitches, with each one costing about £190,000.
Before Wednesday's meeting at Bath's Guildhall, Joseph James, from the Gypsy Council UK, said: "It sounds very expensive to me.
"I've never heard of that sort of a price for building basically a small hut and a patch of concrete.
"If they can't develop the site themselves at a reasonable cost, then they should sell it to the community who would do it at a normal price.
"If they have an unmet need, they have to provide sites otherwise they'll have more people parking in inappropriate places."
Some objections had previously been made concerning highways and access issues, nearby properties being affected by the view and concerns that too many pitches are being put up on the land.