Somerset 'Thames Barrier' scheme is proposed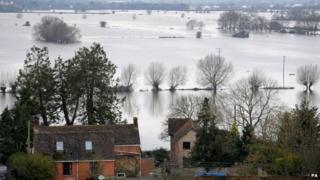 A "Thames Barrier-style structure" and a wall with a "giant valve" are the two options being proposed to prevent flooding on the Somerset Levels.
The River Parrett barrage is one of the key points in the Somerset Levels and Moors 20-year flood action plan.
The Environment Agency will discuss with two Somerset councils later which of the two options will work better.
John Buttivant from the agency said: "The idea is it would stop tidal surges going upriver and reduce flooding."
To protect the tidal Parrett and Tone upstream of Bridgwater, the agency is proposing either a tidal barrier, which is closed off when high tides are predicted, or penning structures.
"One is effectively a Thames Barrier-style structure, which is normally open so that tides under normal circumstances can come and go," said Mr Buttivant.
'Wall across river'
"The other option would be a structure where tidal water is kept out altogether - it's effectively a wall across the river with a giant valve which allows the river water out but wouldn't allow sea water to come back in."
It is estimated that the barrage would cost between £27m and £30m. It will be three to five years before construction begins and the project would take up to five years to complete.
Last winter large parts of the Somerset Levels were badly flooded, causing hundreds of people to be evacuated from their homes.
Farmers were also forced to move their livestock to safer ground for several weeks, putting an extra burden on their businesses.
The meeting, which is not open to the public, is the first step in the barrier plans.