Mary Berry awarded freedom of Bath during Abbey ceremony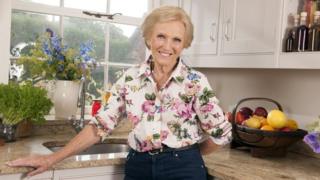 Cookery writer and broadcaster Mary Berry has been awarded the freedom of Bath.
The respected kitchen personality, who has helped lead a recent revival in home baking, grew up in the city where her father was mayor in the 1950s.
She joined a 250-strong procession of city officials and residents who walked from the Guildhall to Bath Abbey for a ceremony.
"I am immensely honoured. I have spent a lot of my life in Bath," she said.
Berry was born in Bath in 1935 and when she was 17 years old, her father Alleyne Berry served as the 724th mayor of the city.
Her career begin as the cookery editor of Housewife magazine and she has gone on to write more than 70 cookery books and appear on countless television and radio programmes, including the hugely popular BBC Two series The Great British Bake Off.
Bath city officials said she had "always been an exemplary ambassador" and was a deserving recipient of the the city's highest and most prestigious award.
The broadcaster said: "I had a very happy childhood. I walked to school all by myself, all the way down Lansdown.
"I had lots of friends and I had a wonderful domestic science teacher who inspired me to do what I do now."
She said she would be joined by her two brothers "and lots of friends" for the Bath Abbey service.