Flood fund deadline extension calls for Somerset Levels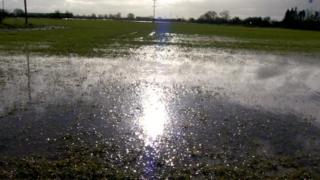 A body that represents Somerset landowners has called for the extension of a deadline for flood-affected farmers to apply for government money.
Parts of the Somerset Levels were under water for months last winter.
Farmers are able to claim up to £35,000 each from a £10m fund, to get their land back into production.
The Country Land and Business Association (CLBA) said some farmers were finding it difficult to meet the deadline of 27 June.
John Mortimer from the CLBA in the South West said: "There are quite a number of farmers who haven't yet been able to pull everything together to get into the position to make the application.
"You've got to remember they went through tremendous trauma on the Levels.
"Getting themselves to the point where they can really think about how they can recover and move forward has been quite difficult for some of them."
'Window of opportunity'
Mr Mortimer said he had asked floods minister Dan Rogerson to extend the current deadline of 27 June.
Farmers are able to apply for funding from Defra's Farming Recovery Fund to restore flooded agricultural land and bring it back into production.
Ben Thorn, from the Farming and Wildlife Advisory Group (FWAG) in the South West, said the current deadline should not be extended, but a second window of opportunity to apply for money should be introduced in the autumn.
A spokesman for Defra said: "We want to see flood affected farmers get back to business as soon as possible which is why we've created the £10 million fund.
"Farmers can apply for up to £35,000 of funding until the 27 June to get their land back into production. They then have until January 2015 to undertake the work.
"We are working with farmers to talk them through the process and answer any questions."