Bath bike hire plan to encourage cycling and reduce congestion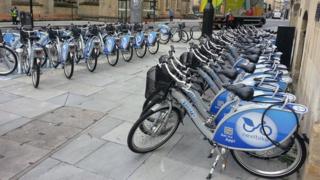 One hundred bicycles are ready for public use across Bath to encourage more people to cycle around the city.
The council-funded Nextbike service costs £1 per half hour to use, or £10 a day, and is available at nine locations around Bath.
The project is being partially funded by Bath and North East Somerset Council for two years, after which it will run as a commercial operation.
It is hoped the bikes would help ease congestion, a council spokeswoman said.
Users can book and return the bikes using a smartphone app linked to a credit or debit card.
It is the first UK scheme for Germany-based Nextbike, which operates 17,000 bikes across 100 cities in 16 countries.
In 2011 a similar venture in Bath saw 58 bikes available for hire operated by the Italian company Bicincitta.
This closed in November 2013 with some people blaming the number of hills in the city for it not taking off.
Rob Grisdale, from Nextbike, believed his company's plan would be more successful.
"First of all there were only four stations so people had difficulty finding them," he said.
"Then you had to go to the tourist information office to sign-up and hire a bike.
"If that was closed there was no way of accessing the bike."