Somerset Levels dredging ahead of schedule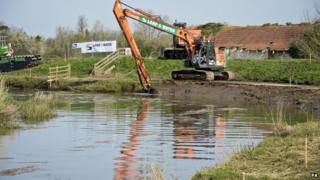 Dredging of the River Parrett in the Somerset Levels is ahead of schedule, the Environment Agency has said.
The agency is aiming to dredge 4.2 miles (8 km) of the river by the end of October to prevent future flooding.
So far, 1,200 yards (1.1 km) has been completed and by mid-July this is expected to reach 1.4 miles (2 km).
Ian Withers from the Environment Agency said the work was slightly ahead of schedule "but only by a matter of days".
"We are pretty much exactly where we anticipated where we would be at this stage," he said.
Mr Withers said the dry weather was helping to keep riverbank soil more stable.
"The progress we've made is more about bringing increasing numbers of dredging teams on to the river and that's what's been happening.
"So we've got five at the moment, next week we'll have six, and that was always planned," he said.
Raise ground level
Previously concerns were raised by the local community about the speed of the project, but the Environment Agency has maintained it will be done on time.
This current phase involves taking the silt from the riverbed and placing it directly behind the riverbank.
Prior to this, the silt was being moved off site to local fields to raise the ground level, which took more time.
Some roads are being closed off in the local area to get machinery on site.
Where this is happening, the Environment Agency has said it will increase working hours to make sure it is done as quickly as possible.