40 Commando Royal Marines get freedom of Weston-super-Mare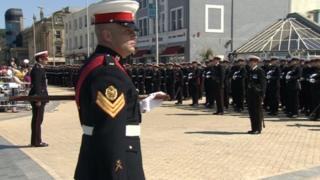 Marines from Taunton-based 40 Commando have been awarded the freedom of Weston-super-Mare.
The parade started in Regent Street at 10:30 BST and mayor Rosslyn Willis presented the honour in Princess Royal Square at 11:00.
After this, the marines - led by the Royal Marines band - marched through the seaside town with bayonets fixed.
The event also included a helicopter flypast and an 11-gun salute on the beach near the Grand Pier.
Mrs Willis said the parade was a "remarkable event" for Weston and a "wonderful way to say thank you to our serving troops".
'Proud day'
"As town mayor, I'm truly privileged to grant the freedom of the town to 40 Commando, Royal Marines."
Lt Col Alex Janzen said 40 Commando had always had a strong link to Weston and the honour would "further cement that relationship".
The ceremony is part of the Weston Air Festival and Armed Forces Day celebrations which take place this weekend on the seafront.
Last May an estimated 15,000 people turned out to see 700 marines march through Taunton to mark their fourth and final deployment to Afghanistan.