Drug label change following 20-year campaign by Somerset man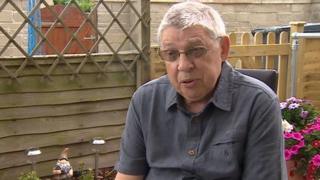 US drugs giant Pfizer is to change its warnings on the use of a steroid following a man's 20-year campaign.
Ron Sheppard, from Somerton, Somerset, has the spinal condition arachnoiditis, which he claims was caused by spinal injections of the drug depo-medrone.
The Pfizer drug is not licensed in the UK for epidurals but is only labelled as "not recommended" for the procedure.
Pfizer said it had submitted label changes to the UK regulator.
The exact wording for the label, which has to be agreed by the MHRA regulatory body, is expected to read "not for use" followed by a list of procedures including epidurals.
'A tragedy'
Depo-medrone is used to treat pain and swelling in the joints and was given to Mr Sheppard in a series of epidural injections almost 30 years ago.
But according to Mr Sheppard, it not only caused him "more pain" but left him with the painful disorder arachnoiditis.
"People have not been warned that it's not licensed [for epidurals]," he said.
"It's a tragedy for people who are going into hospital to have these injections - they are not really being told the truth."
He said he warned the government about the issue 20 years ago but "it was just ignored".
'Not be used'
But after discovering that Pfizer's drug guidance had been changed in New Zealand to "it must not be used" for epidurals, Mr Sheppard said the company and The Royal College of Anaesthetics had agreed to change its guidance in the UK.
In a statement, Pfizer said a label change had been "initiated" to "help ensure both the safety of patients and the appropriate use of our medicines".
It went on to say: "Since 2013, Pfizer has been in the process of working with individual regulatory agencies across the globe to update the prescribing information for depo-medrone."