A waxwork of the 'real' Jane Austen is unveiled in Bath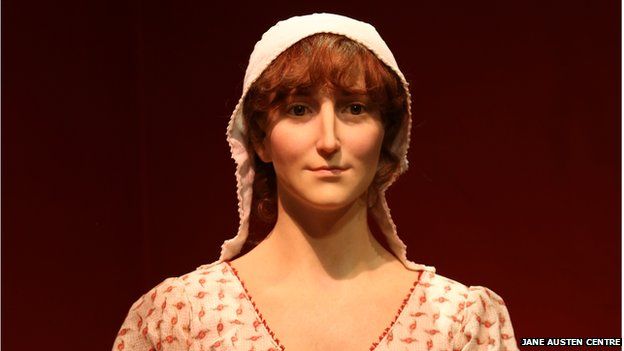 A waxwork of Jane Austen which has taken three years to produce has been unveiled in Bath.
With no "acceptable likeness" of the author, the Jane Austen Centre claims it is the closest "anyone has come to the real Jane Austen for 200 years".
It has been created using eyewitness accounts, and the help of Emmy award-winning costume designer Andrea Galer and an FBI-trained forensic artist.
The waxwork went on show to the public in Bath earlier.
The only confirmed portrait of Austen made during her lifetime is by her sister, Cassandra.
Melissa Dring, forensic artist, said she used the small pencil and watercolour sketch as a "starting point" for her pastel portrait, which became the basis for the waxwork.
"[Cassandra's portrait] does make it look like she's been sucking lemons," Ms Dring said. "She has a somewhat sour and dour expression.
"But we know from all accounts of her, she was very lively, very great fun to be with and a mischievous and witty person."
Jane Austen was born on 16 December 1775
One of eight children of a clergyman
Sense and Sensibility, her first novel, appeared in 1811
Books notable for wit, social observation and insight
Died on 18 July 1817 after treatment for Addison's disease
Two novels, Persuasion and Northanger Abbey published posthumously
Ms Dring said she was confident the "3D portrait" taken from her drawing was "pretty much like her".
"She came from a large Austen family and they all seemed to share the long nose, the bright sparkly brown eyes and curly brown hair," she said.
"[The waxwork] is as close as anyone can possibly get to her."
Jane Austen was born in Hampshire in 1775 and died, at the age of 41, in 1817 in Winchester.
Related Internet Links
The BBC is not responsible for the content of external sites.