Glastonbury Festival: Dolly the dog reunited with owner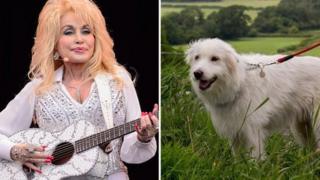 A dog found at Glastonbury Festival, which Dolly Parton offered to re-home, has been reunited with its owners.
The white lurcher was found in a tent during the clean-up of the 1,200-acre Worthy Farm site after the festival.
It was taken in by animal rescuers and the 68-year-old, who stole the show with her debut Glastonbury performance, offered to adopt it.
However, Happy Landings Animal Shelter said the dog, nicknamed 'Dolly', was handed back to her owner on Thursday.
"We would like to thank everyone for their support and donations which has enabled us to treat Dolly whilst she has been here without having to financially take away from any of the rescues in our care," said a spokeswoman for the shelter.
"I would like to clarify to everyone talking about prosecution for abandonment it is not a legal offence to leave your dog for a day.
"The owner did return and subsequently report her missing. There was quite a language barrier."