Sit-in protest Bath toilets closed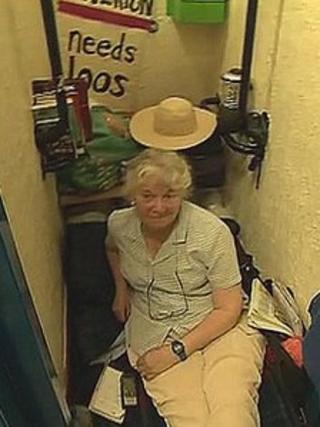 A woman who staged a three-day protest in a public toilet in Bath has branded the closure of five toilets across the city a "disgrace".
Bath and North East Somerset Council said facilities at Larkhall, Twerton, Combe Down and Peasedown St John would shut as part of cost-cutting measures.
The council said it is looking to find alternatives at three of the locations.
But Lin Patterson, from Larkhall questioned whether these would include proper facilities for the disabled.
"And it's not just disabled people who need the toilets, it's mothers with toddlers, taxi and delivery drivers - it's ordinary people," the campaigner said.
"The closures are a disgrace. All sections of the community very much want the facilities."
'People put off'
The 67-year-old added many of the toilets to close were in areas with a thriving local economy and it would be "another nail in the coffin for local businesses".
"People will be put off going shopping in those areas and will head into the city centre shops where there are facilities."
Councillor David Dixon said the council had to balance offering high quality facilities with providing "an affordable proposition for local taxpayers".
He said: "We have been trying to work with local communities and businesses to look at options for providing facilities in these locations."