Banker Andrew Hoare 'died alongside his family' on flight MH17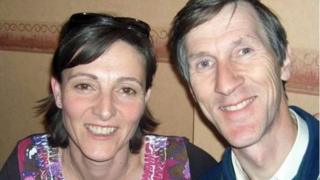 Tributes have been paid to the banker and his family who were killed on crashed Malaysia Airlines flight MH17.
Andrew Hoare, 59, who grew up in Somerset, died alongside his Dutch wife Estella, 51, and their two sons Jasper, 14 and Friso, 12. They were on their way to Malaysia for a holiday.
His brother Hugo said Andrew was a "warm, funny and wonderful man whose smile and character lit up the room".
He said family was "everything to them and they would be terribly missed".
The Hoare's lived in Luxembourg and their sons attended the European School.
Hugo said they made frequent visits to both the Netherlands and England to keep in touch with all branches of the family and friends.
He added Jasper had a "brilliant young mind" and Friso was a "talented musician and peacemaker".
Hugo, from East Grinstead, West Sussex, said Andrew was a "devoted family man" who had been planning to join the rest of the family for a 60th anniversary party in Bath in just a few weeks' time.
He said the gathering will now be a chance to share their memories.
Ten Britons were among those killed when the plane was downed on Thursday over eastern Ukraine.