Storm-hit Royal United Hospital wards 'back to normal'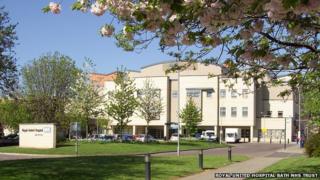 A cardiac ward at a hospital in Bath has reopened after 27 patients were moved on Saturday after torrential rain brought down part of the ceiling.
Some ceiling tiles were brought down by a leak in the cardiac and respiratory wards at the Royal United Hospital.
The patients were moved to other areas of the hospital but the affected areas are now "functioning normally".
"Our staff worked quickly to identify and stop the leak and repair the damage", said a hospital spokesman.
The hospital's trust provides acute treatment for half a million people in Bath, north east Somerset and western Wiltshire.