Information appeal on Frome WW1 soldier Charlie Robbins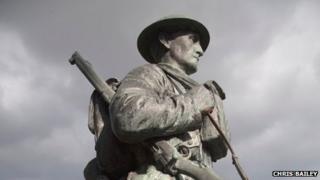 A museum in Somerset is appealing for help in finding information about a World War One soldier, who is the subject of a 92-year-old bronze statue.
Sgt Charlie Robbins, who worked at the J.W. Singer factory in Frome, had a bronze cast made of him after he returned from the front line.
The statue will be placed outside Frome Memorial Theatre next month, having spent years in storage.
Sue Bucklow, from the museum, said: "We haven't got a lot of his history."
Sgt Robbins served in the 2/5th Battalion Gloucestershire Regiment during the conflict. He died in the early 1980s.
Ms Bucklow said: "We'd like people who may have nuggets of information about him to contact us. We're all ears."
Anyone with information on Sgt Robbins is asked to go to the museum, situated on North Parade, or visit its website.