Highbridge YMCA hostel receives £1.1m funding boost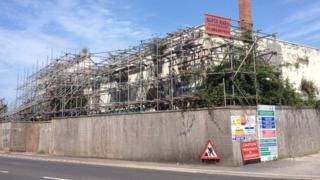 Work to turn a derelict hotel in Somerset into a hostel for young and vulnerable people could begin by the end of the year.
The YMCA has planning permission to turn Highbridge Hotel into a 22-room hostel and community centre.
It will put the development contract out to tender, now that it has been awarded £1.1m by the Homes and Communities Agency.
It is hoped the hostel could be open by spring 2016.
Martin Hodgson, chief executive of the YMCA, said: "It is a fantastic building and is the gateway to Highbridge so it would be fantastic to regenerate the site."
The former hotel was burnt out in a fire six years ago.
Since then it has become an eyesore in the town, as is it boarded up and covered in graffiti.
Sedgemoor District Council is due to make a decision about a request for a change to the planning consent in the coming months.