Weston General Hospital staffing levels 'risking heath care standards'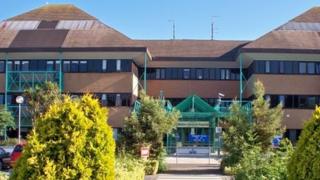 Standards of health care are being compromised at Weston General Hospital due to staff shortages, a report says.
In a document the trust's chief executive, Nick Wood, said the hospital was having trouble attracting experienced clinical staff.
He said this was creating vacancies in vital areas and putting pressure on services in some departments.
Hospital leaders are in talks for another, larger trust to help run the complex from next spring.
The report, which is due to be delivered to North Somerset Council later, points to the "huge improvements" at the hospital in the past year after it was criticised by the Care Quality Commission (CQC).
"We face a challenge on a daily and weekly basis to ensure we have the right number of clinical staff to deliver the demand," Mr Wood said.
"It is a problem if we don't manage to recruit staff, which is why we clearly flagged up the risk issue, and part of the decision-making process to get us to move to an NHS-only solution for the acquisition of Weston hospital.
"We recognise there are significant risks... our job is to act on those risks and ensure that we can continue to provide the services."