Pregnant woman rescued from Weston-super-Mare mudflats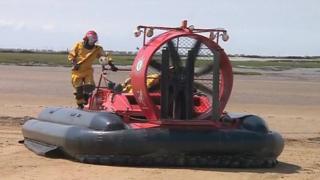 A heavily pregnant woman stuck waist-deep in mud was among eight people rescued by hovercraft from mudflats in Weston-super-Mare.
The woman, who is eight months pregnant, was taken to safety along with her partner and a young girl.
The crew was initially called out on Monday afternoon to rescue a teenage boy and his carer near the Grand Pier.
After checking the area, Avon Fire and Rescue Service rescued three men in their 20s before finding the woman.
Spokesperson Steph Mounsey said: "People visiting the area may not know how quickly the tide comes in at Weston-super-Mare, and just what the problem is with the water rising up through the mud.
"It becomes like quicksand. A lot of local people know that - but many tourists don't."