World War Two pillbox found in a hedge in Somerset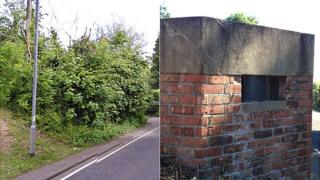 A World War Two pillbox, unearthed in a hedge in Somerset, could become the centrepiece of a new heritage tour.
The recently excavated pillbox, on the A30 near Crewkerne, was part of a defensive line to stop German forces pushing west in the event of invasion.
Buried under brambles and soil for decades, it was uncovered by Crewkerne Town Council's grounds team last month.
Town mayor Robin Pailthorpe said: "It's remarkable, yards from a main road yet nobody seemed to know it was here."
The A30, which runs from Cornwall to London, was seen as a strategically important route by the War Office in 1940.
'Knew something there'
Several pillboxes were built along the road in the hope of slowing down the advance of troops moving towards London.
"It's a very obvious setting for something like this but it was very well buried under eight or nine feet of brambles and trees," said Mr Pailthorpe.
"We knew there was something there because you could see brick footings but the grounds team were very, very surprised when they uncovered it.
"Now we're trying to put together a war memorial trail so people can walk around and see the war heritage of Crewkerne."