Wells UKIP hopeful quits amid internal party spat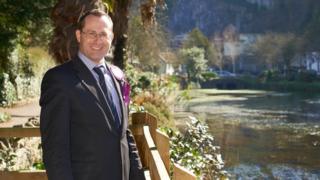 The UKIP prospective parliamentary candidate for Wells says he has withdrawn his candidacy, blaming internal wrangling among party members.
Jake Baynes had been selected to contest the seat currently held by Liberal Democrat MP Tessa Munt at next year's General Election.
He said there had been a "continuous campaign" to oust him, and that UKIP did not want to win the seat.
A spokesman for UKIP said his claim was "absolute nonsense".
"There has been a continuous campaign by people who for some reason didn't want me selected to work their very hardest to oust me," said Mr Baynes.
'Fighting hard'
Two of the people who are accused of campaigning against him are Glen and Colleen Tucker, who are members of the local party branch in Wells.
In a joint statement they said: "There's no plot against Jake Baynes.
"He was asked to stand down as PPC by a previous branch chair and more recently in writing by 12 active local members (including us) who don't think he is up to the job, particularly his communication skills."
Mr Baynes said UKIP wanted the Conservatives to win the seat.
A UKIP head office spokesman said: "The party chairman spoke to Mr Baynes, who failed to respond constructively.
"The suggestion about the seat is absolute nonsense; it is a Lib Dem seat which we will be fighting as hard as we can."
The BBC also understands the chairman of the party's Wells branch, Graham Livings, has also resigned.