Somerset councillor Sam Phripp quits over 'bullying'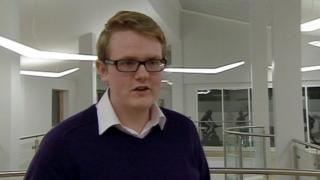 Somerset's youngest county councillor has resigned, citing "intimidation and bullying from other politicians".
Sam Phripp, 22, who was the Liberal Democrat member for Frome North, said he had left "with immediate effect".
The Conservative leader of Somerset County Council, John Osman, said it was "sad" the youngest member of the council had left.
Mr Osman said he had seen Mr Phripp's allegations, but understood they had not been reported to council bosses.
Mr Phripp announced he was resigning on Thursday.
The webpage with his name, photo and other details appeared to have been removed from the council website by the end of the day.
'Such resistance'
Speaking about his resignation on his blog, So Sam said, Mr Phripp said he had entered politics "to try to make things better" for the people he "knows and grew up around".
But he said it was becoming "almost impossible to do my job properly against the obstruction coming from other politicians.
"I've been met with such resistance, and, at times, such hostility, intimidation and bullying that I simply can't and won't go on any further."
Mr Osman said as the allegations did not name individuals or point to any specific events, "there is nothing to investigate".
"If Sam wanted to come back with to me with anything specific of course we'd look into it," he said.