Irish nuclear legal challenge against Hinkley Point fails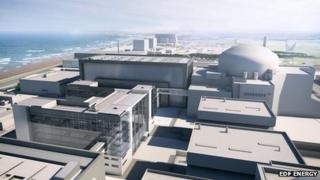 A legal challenge by Ireland's National Trust, An Taisce, to stop a new nuclear power plant being built in Somerset, has failed.
It was contesting the legality of granting consent for Hinkley Point C, 150 miles (240km) from the Irish coast.
The judicial review ruled its case should not be referred to the European courts and dismissed the application.
The trust claimed, under EU directives, Irish people should have been consulted about the environmental risks.
In March 2013, UK Energy Secretary Ed Davey gave EDF Energy planning consent to build Hinkley Point C on the Somerset coast.
But An Taisce claimed the government failed to undertake a "transboundary consultation" with the Irish people, as required by the European Commission's Environmental Impact Assessment Directive.
The UK government said such consultation was not necessary as nuclear accidents were not sufficiently likely due to the robustness of the UK regulatory regime.