Temporary toll road for A431 at Kelston opens to traffic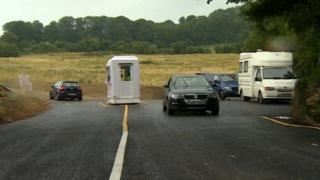 A temporary toll road made of rolled chippings that bypasses a closed section of the A431 between Bath and Bristol has been opened.
The Kelston Road was shut in February after a landslip and will not be repaired until the end of the year.
Businessman Mike Watts arranged for the the track to be built which costs £2 per car for the 400m journey.
He said although the road did not have planning permission he would be applying for this retrospectively.
Bath and North East Somerset Council, which had previously rejected the idea of building a temporary road, would not comment on the road's opening.
Instead, it referred the BBC to a previous statement issued on 9 July which said it "held no information the toll road design meets safety standards and no evidence that insurances are in place for any member of the public who uses the private toll road".
Vehicles over 3.5 tonnes, or those wanting to avoid the toll, should continue to use the signposted diversionary route, which is 10 miles (16km) long.
The permanent repair, costing £1.5m, is due to be complete by the end of 2014, and the council said site work "continued to progress well".