Frome residents return home after WWII device dug up and removed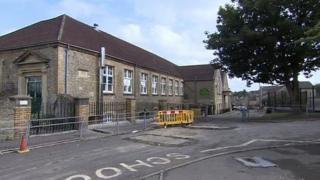 Bomb disposal experts have dug up and removed a World War Two device buried in a Somerset garden following a planned evacuation of 100 homes.
It came after a "credible" warning from a local man saying his grandfather had buried a device at his former home in Milk Street in Frome some 60 years ago.
People in the affected area had cleared their homes by 07:30 BST on Wednesday.
Terry Pinto, whose garden the device is buried in, said he had become a "local D-list celebrity" due to the scare.
The evacuation was scheduled last week following the claim, made by the grandson of a man who lived in the house before Mr Pinto.
Bomb disposal experts uncovered a 14in (35cm) projectile, which was then taken by a military team to a nearby field for disposal.
Mendip District Council thanked people affected by the disruption for their patience.
Before the evacuation, two garden surveys in Milk Street took place that showed there something made of metal had been found.
Mr Pinto said the bomb claims had raised his profile in the thriving market town.
He said: "The only problem is now, that every time I walk around Frome, everybody keeps going 'boom' at me - I've turned into the local D-list celebrity.
"I'm more worried about my elderly neighbour and making sure her kids know what's happening, so she's been shipped off to her daughter's for the day."
He said most of his neighbours felt relaxed about the situation.
The safety cordon has been removed from the Milk Street area and all roads are now open.