Drivers warned not to ignore road closed signs in Bruton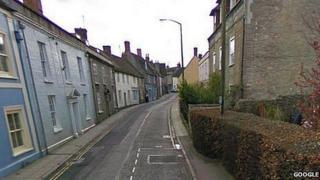 Drivers who ignore road closed signs in a Somerset town are being warned it may invalidate their insurance.
The A359 Quaperlake Street in Bruton was closed on Monday for about four weeks for drainage improvement works.
Somerset County Council said drivers had been ignoring the signs and moving barriers and equipment so they could drive along the road.
Cllr Harvey Siggs, said the road was "potentially dangerous" and insurers may not cover drivers who ignore signs.
"Obviously it is regrettable that the road had to close but road closure signs are in place for good reason," the cabinet member for highways said.
"The road is essentially a building site and there could be a number of hazards - from loose cables to open excavations in the highway.
"As well as being potentially dangerous, anyone ignoring an official closure should also be aware that their insurance may not be valid."
The work to clear and upgrade drainage systems to prevent flooding in the town, is due to be completed by 5 September.