Bath Abbey audio guides launched as part of oral history project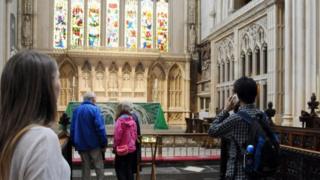 A series of audio guides to Bath Abbey, featuring the voices of people who have worked on its restoration since 1942, are to be made available.
The guides explain about how the Abbey's stonework, stained glass windows, bells and other architectural features have been cared for.
They have been produced as part of an oral history project, preserving memories of those involved.
Nine audio guides will be available on the Abbey's website from 18 August.
The guides range from fire watchers' memories of how the abbey's massive East window was shattered during World War Two, to accounts of when thousands of toothbrushes were used in the 1990s to painstakingly clean stonework that was black from hundreds of years of soot and pollution.
Oral history project manager at the abbey, Dr Oliver Taylor, said: "It'll be like having your very own tour guide in your pocket, taking you back in time and helping you learn about aspects of the abbey that have been restored.
"Often, the person you hear is the person who kept that part of the abbey in such good condition."
The project was funded through a grant of £22,200 from the Heritage Lottery Fund and £7,000 from the Friends of Bath Abbey.