Somerset County Council apologises for FoI response delays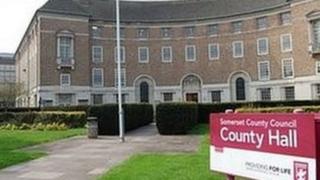 A council has apologised for its delay in responding to Freedom of Information Act requests.
Somerset County Council said requestors had been asking for very detailed levels of information including email chains between multiple recipients.
Public bodies and government departments are required to respond to requests within 20 working days.
But the council said it was "committed to transparency" and was "working hard" to increase its performance.
The office of the information commissioner recommends 75% of inquiries should get a response within 20 days.
'Huge increase'
The authority said it had reached a figure of 65% but an additional member of staff had been taken on and it would improve, it said.
Nigel Pearson, an independent county councillor for Chard North, requested information in May but has not had a reply.
He did not give details on the complexity of his request.
"On 16 July I spoke to John Osman, the council leader, and he assured me he'd get this sorted out," said Mr Pearson.
A Somerset County Council spokesman said "We have seen a huge increase in requests for information - up from 862 in 2012 to 1,095 in 2013.
"To the end of June 2014 we had already received 741 requests".
The Act, which became statue in 2005, allows anyone to request information from a public body that it may not normally choose to make available.