Bath rough sleeper-numbers rising, charity claims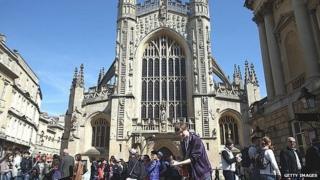 A homeless charity in Bath says it has seen a "worrying increase" in the number of rough sleepers wanting help.
In the past year, the Genesis Trust said it is regularly dealing with more than 50 people a day during their two-hour drop in sessions.
It has seen a 20% rise year-on-year to its service run from vaults underneath Bath Abbey.
Family breakdowns and changes to how benefits are paid are among the reasons, the charity said.
Paul Solly, director of the Genesis Trust, said there had been issues over local connections - where councils will only help homeless people with a genuine link to the area.
'Survival mindset'
He said for both "good and bad reasons" some people did not always want to go back to their home towns and were starting to "float" from town to town, not being able to access services.
"We're helping people more practically... but in terms of talking about moving into accommodation or accessing drug and alcohol services... while we do have our success we're finding we're unable to pass people on.
"People seem to be struggling more, their mindset is more about survival rather than moving on."
The trust said although figures from Bath and North East Somerset Council showed in 2012 there were 22 rough sleepers, it believed the numbers were much greater.