Somerset Levels flooding: Rivers board proposal finalised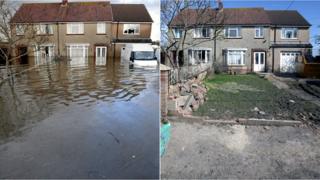 Proposals for a new group to manage water on the Somerset Levels have been finalised.
The plans for a rivers board, to have more control and responsibility, were outlined as a "must" in the 20-year flood action plan published in March.
Somerset County Council's leader said the environment secretary would need to approve the details and they were due to meet early next month.
Large parts of the Levels spent much of the winter of 2013-14 under water.
For three months up to 1,500 hectares (28,420 acres) were inundated by water which had nowhere to drain away to.
It is hoped the rivers board - made up of representatives from the county council , Sedgemoor District Council, Environment Agency, Natural England and internal drainage boards - would improve water management in the future.
"We want to make one body - one point of contact to say they are responsible and they are there to direct, inform and advise," said county council leader John Osman.
"We are going to be in government's hands, as what we are asking for is going to need some legislation and some changes."
A public consultation will also be needed before the board can begin work.