Petition calls for removal of West Somerset College head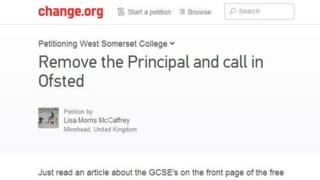 More than 240 people have signed an online petition calling for the head of a Somerset school to be removed from her post after poor GCSE results.
Only 38% of GCSE students at West Somerset College got five GCSE passes at C grade or above, including maths and English.
The petition calls for West Somerset's principal Gaynor Comber to be removed.
The school's governors said Ms Comber had their "full backing".
They have started an "urgent investigation" into the reasons for the poor results.
In a letter sent earlier this week to parents, the school admitted it was "gravely concerned" at its "apparent inability" to improve student attainment at that level.
"We have every confidence in the ability of our leadership team to deliver (with your help) better outcomes for our young people," it continued.
The letter added they "expect a visit from Ofsted in the very near future".
"We will take any recommendations very seriously and will not hesitate to take action if action needs to be taken."
''Full support"
Ms Comber said a third of students got at least one A or A* and the school would be appealing a number of results.
Martin McNeill, chair of governors at the college said: "We've appointed her [Ms Comber] to do a job.
"She's only part-way through doing that job and she has the full support of the governing body in the job that she's doing.
"I think parents are quite right to be concerned and governors certainly are concerned that the results have not improved as we would have hoped they would have done."
Nationally this year's results showed a sharp fall in English GCSE grades, but on average across all GCSE subjects there was a rise in A* to C grades.
Exam officials revealed that 68.8% of entries scored A*-C, up 0.7 percentage points on last summer.