Banned Biblical whale inflated on beach in Weston-super-Mare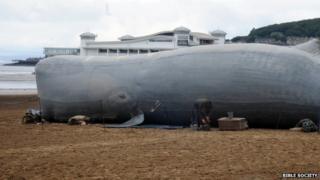 A giant inflatable whale has been erected on a beach at Weston-super-Mare after it was banned from London's Hyde Park for being "too religious".
The Bible Society installed the 50ft (15m) long creature after it was told it could not re-enact the story of Jonah in London's Royal Parks.
Officials told organisers events of a religious nature were not permitted.
A Bible Society spokesperson said North Somerset Council was "more than happy" for the whale to be put on the beach.
'Decent beach'
The whale is designed for up to 40 children to sit in while the Circo Rum Ba Ba circus troupe perform the Biblical story of Jonah and the Whale.
Rachel Rounds, from the Bible Society, said: "The Royal Parks in London may have banned Bible Society from telling the story of Jonah but Weston has saved the whale.
"Recent research for our 'Pass it On' campaign showed that 59% of children didn't know the story of Jonah was from the Bible.
"So we want to encourage the next generation to engage with great Bible stories and what better way than from inside a 50ft inflatable whale told by a circus troupe."
Ms Rounds said the society had originally planned for the whale to be put up in Hyde Park or Greenwich Park in London but they were told it would not be allowed in any Royal Park.
She said Weston-super-Mare was chosen because it is the "nearest decent beach" to the society's headquarters in Swindon.
"We approached North Somerset Council and they were more than happy for us to bring the whale here," she added.
A spokesperson for the Royal Parks said they did not "permit collective acts of worship or other religious observances in the Royal Parks, including the construction of structures with a religious significance".
They added: "We seek to strike a balance between the quiet relaxation that the parks provide and events which appeal to a wide audience."
Performances are due to take place over the next three days.