Kelston toll road 'needs more vehicles' to break even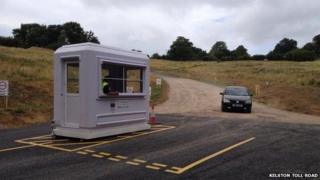 A businessman who built a private toll road to bypass a road closed because of a landslip has said more vehicles need to use it for him to break even.
Mike Watts created the shortcut through adjacent fields after a section of the A431 between Bristol and Bath was closed in February.
He said about 1,200 cars per day, each paying a £2 toll, are required to cover the £165,000 cost of the scheme.
Mr Watts said he was "very optimistic" the target would be met.
The project was originally expected to cost £150,000, meaning 1,000 vehicles a day were needed to cover costs.
But an application for retrospective planning permission had cost more than expected, Mr Watts said.
"We now need 1,200 vehicles a day to break even.
"I'm very optimistic, once the schools go back on Wednesday, that the traffic will build up.
"The public's reaction to it has been unbelievable."
Mr Watts said the 25,000th toll journey had been recorded on 29 August.
A retrospective planning application was submitted to Bath and North East Somerset (Banes) Council on 13 August.
A decision on whether to grant permission is due in October.
Mr Watts said he was also discussing with the council the "unfair" road closure signs on the A431.
"The overpowering message is the road is closed. It's causing confusion for drivers," he added.
The main Kelston Road was shut in February and is not expected to be repaired until the end of the year.
A 10 mile (16km) diversion was put in place but the 1,300ft (400m) private road opened earlier this month to offer a shortcut through adjacent fields to vehicles.