Drivers caught in 20mph crackdown across Avon and Somerset force area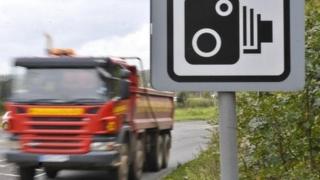 More than 80 drivers were caught speeding in 20mph zones across the Avon and Somerset Police force area in August, the BBC has learned.
Previously, the constabulary said "enforcement will not be routine" and only "where there is evidence of clear and excessive offending".
The move comes as the force's mobile speed camera unit started enforcing the lower limit across the West.
Of the 81 offences, 12 drivers were handed a £100 fine and three points.
Sixty-nine motorists were given the choice of taking part in a safety "education workshop" in lieu of the fine and points on their driving licence.
The constabulary said it complied with the guidance issued by the Association of Chief Police Officers (Acpo).
The idea to introduce city-wide 20mph zones in Bristol was originally proposed in 2010.
It was approved by Bristol City Council in July 2012 and will be rolled out across the city by 2015 at a cost of £2.3m.
And in 2012 Bath and North East Somerset Council (Banes) said it planned to introduce a 20mph across all residential areas in the county.