Henstridge man faces 18 days in a box to honour soldiers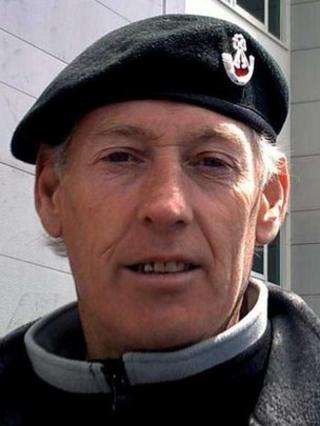 A former infantryman is spending 453 hours in a 10ft (3m) steel shipping container to "honour fallen soldiers".
Terry Williams, 57, from Henstridge, Somerset, said each hour of the 18-day challenge represented a soldier killed in Afghanistan.
The ex-serviceman is raising money for The Rifles' Care for Casualties appeal.
The challenge, which Mr Williams called "formidable", began in Cheddar Woods holiday park at 14:00 BST and is due to end at 11:00 on 24 September.
Mr Williams said he was hoping to raise £80,000 to help the families of the fallen, the wounded and their carers to have a holiday "to aid their recuperation and recovery".
'Solitary confinement'
"Being locked away without daylight for so long is going to be a very daunting challenge," explained Mr Williams, who was a Light Infantry soldier in the 1970s.
"It's a small price to pay compared to what our soldiers have had to endure in battle and on their return, so it's one I am more than ready to face.
"My solitary confinement emphasises with the situation soldiers face when they are in a conflict zone, with limited contact with home and only basic facilities on offer.
"Many soldiers returning home will feel the effects of their injuries and experiences for the rest of their lives, so the knowledge that I'm doing something to help them will certainly keep me going."
Inside the container, Mr Williams will have a bed, chair, hob, sink and toilet.
A webcam will stream live images and he will also have internet access, so plans to post messages to supporters during the challenge.
Staff from Cheddar Woods, where Mr Williams works, will be monitoring him throughout the challenge.