Midford Road reopens following landslide repairs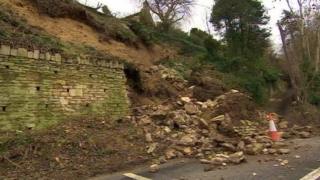 A busy commuter road near Bath has reopened following repairs due to a landslide, Bath and North East Somerset Council has said.
The B3110 Midford Road was closed at the end of January due to land slippage on nearby privately owned land.
A council spokesman said stabilisation works had been completed, although further work on a wall would need to be carried out over the next few weeks.
He thanked local people for their patience during the works.
"It is envisaged that the wall works will be undertaken without traffic restriction," the spokesman added.
"There may be on occasion minor delays during material deliveries and plant movements but these should be minimal."