Cash to aid travel to Hinkley C nuclear plant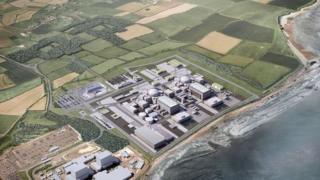 Transport links in part of Somerset are to be updated ahead of the construction of the Hinkley Point C power station.
Funding of £2.8m is due to benefit four projects in Bridgwater and Taunton, including £1.6m towards road maintenance in the area.
The scheme will also see £800,000 spent improving Bridgwater railway station and £295,000 on a cycle route linking Hinkley Point to Bridgwater.
The money will also fund better access to and from Taunton railway station.
Transport Minister Baroness Kramer said the improvements would help support the area's long term economic growth.
"The Hinkley Point C power station will employ at least 5,000 people, generate business for local suppliers, and comes with significant investment in training and skills for local people," she said.
"Transport to the power plant will be easier, safer and more environmentally-friendly following these improvements."
The proposed £14bn Hinkley C station would be capable of powering five million homes.
It is estimated the project will create between 20,000 and 25,000 jobs during construction and 900 permanent jobs once in operation.
Hinkley Point C is set to take between eight and 10 years to become fully operational.
It will be made up of two nuclear reactors and will be built next to Hinkley Point A and B.