Flood-damaged A431 at Kelston to get extra £660,000 in council funding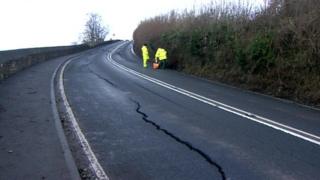 A further £660,000 in funding to fix a flood-damaged road between Bristol and Bath has been approved by councillors.
Part of the A431 Kelston Road was shut in February amid fears there could be a "catastrophic" or fatal landslip after part of the road subsided.
Bath and North East Somerset Council (Banes) said it had so far borrowed £2m to fund repairs but "more comprehensive works" were needed to prevent collapse.
Work is still due to be complete and the road fully open by the end of 2014.
The "emergency decision" was made at a council meeting on Thursday, following further investigation works at the site.
"It has now emerged that below the land which has already moved, there is another layer of 'soft' rock which is also at a risk of sliding," said Councillor Paul Crossley.
"A new scheme has been designed which will require two rows of deep piling to ensure that future land-slips are prevented."
He said the authority had funded the scheme so far through council borrowing but would continue to lobby government for funding.