Watchet Marina sea gate damage may delay boat owners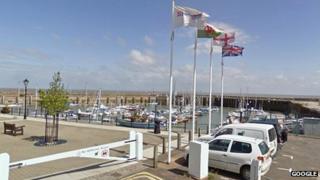 Boat owners using Watchet harbour in Somerset are being warned of delays getting in and out of the marina for the immediate future.
Part of the seven-tonne hydraulic gate across the mouth of the marina was damaged earlier this week.
An inspection has confirmed the whole gate will need to be replaced but it is not yet clear how the damage happened.
The gate controls the tidal flow from the Bristol Channel in and out of the marina.
Manager James Purnell said although boats can still get through, using a temporary system, people will have to be patient until it can be repaired.
"We've got to take a lot of things into consideration including the weather and the tides," he said.
"We're keeping everything going as best as we can but we are asking if anybody comes to Watchet by boat then contact us in the marina office and we can make arrangements to help people get in and out."