Jane Austen festival: Fans 'reclaim costume record'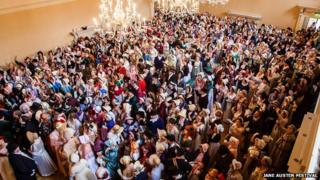 Fans of the novelist Jane Austen believe they have reclaimed their world record for the largest gathering of people dressed in Regency costume.
The Guinness World Record was originally set at the Jane Austen festival in Bath in 2009 when 409 people gathered at the Assembly Rooms.
It was beaten in July by festival-goers in Greater Louisville, US, though never ratified.
On Saturday, 550 people suitably attired met before walking around Bath.
Festival director, Jackie Herring, said the numbers had been "touch-and-go" for a while but saved by a rush of people arriving at the end
"It a fantastic way to start the festival and bring the record back to the city Jane Austen called home for several years of her life," she said.
To achieve the record the participants had to remain in position for a minimum of five minutes in full Regency attire with all those taking place with the necessary accessories to complete the outfit.
The event is part of the Jane Austen festival which runs until 21 September.