Body found in search for missing Bath student Sammuel Amin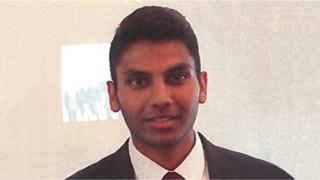 A body believed to be the missing teenager Sammuel Amin has been recovered from the River Avon in Bath.
Avon and Somerset Police said the body had not been formally identified but his family had been told.
Police divers made the discovery at around noon after continuing their search which began on Monday afternoon.
The 18-year-old was last seen outside a bar in the the centre of Bath in the early hours of Saturday. He was set to start university next week.
'Terrible day'
His disappearance was described by police as "completely out of character".
Det Insp Dickon Turner spoke to Mr Amin's parents earlier.
He said: "They were very, very upset when we saw them. I had to tell them we had found a body in the River Avon this morning and that we strongly believe it to be their son Sammuel.
"Obviously formal identification procedures haven't been carried out yet but we are pretty sure it's him.
"It's a terrible day for them obviously."
The search focused on the stretch next to the towpath along the River Avon.
Mr Amin was last seen at Opa, a Greek bar and restaurant at North Parade.
He left about 02:00 BST and was seen on CCTV walking along Dorchester Street.
His friends told police he often used the towpath to get back to his home in Twerton.
The discovery of the body brings the total number of people who have died in the River Avon since May 2009 to six.
It also means three people have died in the River Avon in Bath this year.
'Safety precautions'
Speaking of the search, Mr Turner added: "With recent tragedies in mind, we had to consider this [falling into the river] as a strong possibility.
"It wasn't the only line of enquiry we made - we didn't want to make assumptions and we very much wanted to find him alive and well."
The area's River Safety Group, which includes the police, fire service, council, Environment Agency and Canal and River Trust, expressed its "heartfelt sympathy to the deceased man's family and friends at this tragic time".
"We cannot comment specifically on this incident whilst investigations are ongoing," the group added.
It said it had already implemented a number of safety precautions including fitting fencing along a 1km length of tow path from Green Park to Windsor Bridge Road, and maintaining grab lines along the River Avon.
The group added it had also installed warning signs at eight locations between Churchill Bridge and Windsor Bridge and had shared river safety advice throughout the district's licensed premises, two universities and City of Bath College.
The statement added: "The river is a beautiful part of the city, but we would remind people of the importance of staying safe around the water, particularly at night time."