Somerset County Council in £7m overspend warning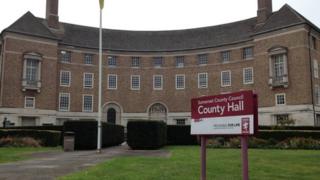 A predicted £7m overspend across key departments in Somerset County Council has forced councillors to take £2m from reserves to help plug the shortfall.
The overspends are £3.2m in Learning Disability, £3.4m in Adult Social Care and £2.7m in Children's Services.
Council leader, Conservative John Osman said: "It's good we get a health check as it allows us to address it [the overspend] over the rest of the year."
Mr Osman added the council under spent its budget last year by £6m.
'Breaking point'
The overspend in Children's Services is due to extra money being invested to improve standards after a critical report by Ofsted last year.
The council spent £741,000 on three temporary new staff to head up the children's services department.
However a six-month review in July by Ofsted found there was "still much to do" to improve.
BBC Points West politics editor, Paul Barltrop, said the department was also facing severe problems recruiting and retaining social workers.
He said: "Drilling down into that £2.7m overspend we've seen the use of the agency staff - in other words people who work for private agencies drafted to fill a hole at an expensive hourly rate - that has added £2m to the overspend."
He also added morale was low - with one council staff worker describing the department at "breaking point".
But Mr Osman has denied morale is low.
He said: "The bottom line is we have got social workers on the ground to keep children as safe as they can be - some of those social workers are interims.
"The quality of them is high - if they weren't of high quality they would be out the door very very quickly."
The council leader has also written to the government asking for extra funding to pay for the creation of a new rivers board group.
Mr Osman is also hoping to secure support from the government over plans to build a River Parrett barrage to prevent flooding.
The Environment Secretary Liz Truss is due to visit Somerset next month to meet the council leader.