Man-in-a-box Terry Williams 'gutted' by donations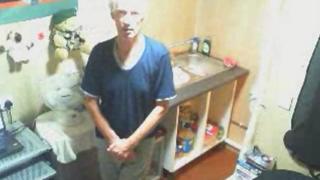 A Somerset man who has spent 11 days in a shipping container as part of an 18-day charity challenge said he was "gutted" by the "very poor" response.
Terry Williams, from Henstridge, has been in the 10ft (3m) steel box since 6 September in a bid to raise £80,000 for The Rifles' Care for Casualties appeal
The ex-serviceman is due to be released at 11:00 on 24 September but has so far only had 20 pledges totalling £1,468.
He said he was "gutted" by the response but was looking forward to exiting.
Locked inside the container, in Cheddar Woods holiday park, the former Light Infantry soldier has a bed, hob, sink, "baby bath" and toilet.
But being in solitary confinement in a "sweat box" with no daylight, has taken its toll on the 57-year-old.
"The challenge has turned out to be a lot tougher and more exhausting than I thought it would be and one that I would not like to repeat," he said.
"Being inside the box has tortured my senses and physically pounded my whole being."
A webcam has been streaming live images from inside the container, 24 hours a day, and there is internet access for people to post messages of support.
Mr Williams said: "The webcam has had a lot of viewers, about 3,000 hits, but sadly not encouraged people to donate.
"But my intention is to complete this challenge no matter if it gets harder over the coming days."
The 453-hour challenge, an hour for each British soldier killed in Afghanistan, is due to end at 11:00 on 24 September.