Jessie May children's charity expands its operation to Bath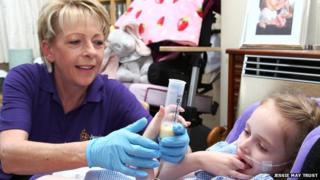 A charity which helps terminally ill children is to expand to cover Bath.
Jessie May, which has been running for 18 years in Bristol, North Somerset and South Gloucestershire, delivers hospice-style care in the family home.
At present it provides respite care to eight Bath families but said there are three times as many people in Bath and North East Somerset who could benefit.
The trust was set up by Chris and Philippa Purrington after the death of their daughter, Jessica May.
She suffered from a genetic condition and died at the age of four-and-a-half months.
Chair of the trustees, Roger Harper, said: "Respite care is vital but is only a small part of what is needed.
"We would love to provide emotional support, social opportunities to both the children and their families, including brothers and sisters who often take on the role of young carers, end-of-life care and bereavement support."
The family, originally from High Wycombe, found that while visiting relatives in Bristol there were no provisions to care for Jessica at home and so she was admitted to hospital.
After Jessica's death, her parents were determined to help other families with terminally ill children to have support in their homes and the choice of where their child would die when the time came.
Since 1994 the trust has cared for more than 200 children.