Mandarin school lessons project expands in Somerset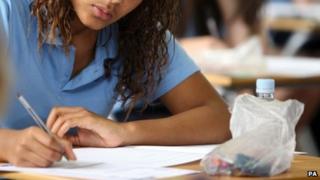 A college running a project to teach Mandarin to pupils in Somerset has now rolled out to 22 state schools.
Until now, apart from some private schools, only two other state schools in the county taught the language.
The Strode College scheme backed by the Confucius Institute has the aim of eventually teaching Mandarin to GCSE level in secondary schools.
The aim is to give pupils an advantage in the workplace as trade links between the UK and China grow.
Trade links
Westfield School in Yeovil, and Strode College offer GCSE-level Mandarin.
Another 13 schools teach Mandarin and offer certificates reflecting varying levels of proficiency in the language.
The rest of the schools include lessons on Chinese culture and geography as part of their curriculum.
It is the first time a concerted effort has been made in Somerset to introduce Mandarin lessons.
Castle School, in Taunton offers language lessons, while Haygrove School, in Bridgwater, has taken a different route by working with the Yew Wah Foundation in China.
According to British Council research 8% of schools in the South West teach Chinese - the figure is 6% nationally - and its figures suggest only a very slight increase in the number of schools offering the language over the past few years.
Nationally, 3,132 students took a Chinese GCSE this summer, compared with 168,042 taking French.
'World stage'
Project leader Adrian Ash said: "If those [private] schools believe the language is of value to their students then it's certainly of value to all students - that's why we at Strode College want to give that opportunity to all students right across Somerset."
Mark Moulding from the British Council said: "With China now the world's second biggest economy, we need many more young people to be able to understand Chinese language and culture if they're going to be able to compete on the world stage.
"Government figures suggest that the UK's lack of foreign language skills is costing the economy almost £50bn a year - so more young people learning languages like Chinese will help to tackle that."
Somerset-based firms such as Clarks produces its footwear in China and the Hinkley Point C nuclear power project also has Chinese investors.
As part of the Strode College project, the schools are also linked with the Chinese city of Yueyang (Hunan) for exchange trips.
Mr Ash has also said they hope to further expand the number of schools offering GCSE Mandarin from next September.