CCTV in Bristol 20mph zones 'not to enforce speed limit'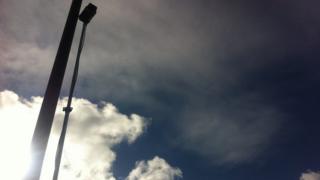 CCTV cameras in some of Bristol's 20mph zones have not been installed to catch speeding motorists, the city council has said.
More than 80 drivers were caught speeding in the zones across the Avon and Somerset Police force area in August, by mobile speed cameras.
But a council spokesman said footage from new CCTV cameras was being used "purely for traffic monitoring and evaluation".
Roll-out of the zones began in January.
'Not for enforcement'
A council spokesman said: "City-wide, we are reviewing the efficiency of our 20mph zone programme by means of regular traffic counts, speed counts and household interviews.
"Redland has had the 20mph limit since January 2014 and the traffic surveys, being undertaken in this area, are part of the monitoring that is taking place for the 20mph limit project.
"This footage is used purely for traffic monitoring and evaluation and will not be used for any enforcement purposes. The footage is owned by the council and will not be given to any other organisations."
Many roads in the centre of Bristol and in Clifton, Cotham, Bishopston and Redland had the speed limit reduced from 30mph to 20mph at the beginning of this year.
The new limit also became active in parts of Henleaze, Horfield, Lockleaze, Sea Mills, Stoke Bishop and Westbury earlier this week.
Eastville, Frome Vale, Hillfields, St George and Fishponds are expected to adopt the zones before the end of 2014.
The city-wide roll-out is due to be completed by March next year.