Wilmington solar farm loan allowed by Bath scrutiny panel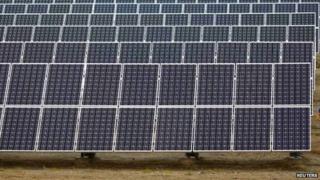 Calls for a council decision to loan £500,000 to a solar farm project near Bath to be reconsidered have been dismissed.
Two Bath and North East Somerset Council cabinet members had agreed in principle to loan the cash to Wilmington Farm Solar Array project.
But 10 councillors asked for a review of the decision which affects land on the west side of the A368.
The resources policy development and scrutiny panel allowed the decision.
'Needs to be implemented'
Councillor Robin Moss, who chaired the panel, said: "The call-in meeting was very constructive, with participation from the signatories of the call in, the cabinet members and members of the public.
"The unanimous view of the panel was that the cabinet members' decision needs to be implemented, but that full council should be informed of this important decision."
The original decision to loan the money was taken on 2 September by council leader Paul Crossley, and councillor David Bellotti, who is responsible for community resources.
Bath and West Community Energy has already raised £500,000 towards the £2.6m project.
With the council loan, the energy co-op will be looking to raise the remaining £1.6m in a share offer.
The solar panels will be built on land to the south of Hunstrete and west of Marksbury.