Somerset care homes 'left children's details on view'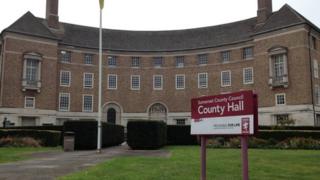 Details of vulnerable children were left on view at a Somerset care home, an independent observer has revealed.
BBC Somerset has also learned of male staff caring for a girl with intimate care needs, in breach of guidelines.
On Friday, Somerset County Council said it would close the West End Cottage and Appledore homes due to serious safeguarding concerns.
The authority said it has taken "decisive action" by closing the homes.
'Anyone could see'
Independent observer, councillor Clare Gordon said during her inspection in August a whiteboard was on view showing each child's social worker and family contact details.
"I felt they should not have been on a whiteboard in an office where anybody delivering the groceries could have walked in and seen it," she said.
Another source told the BBC that a female resident living at one of the homes in the last year had intimate care needs, but there were occasions when only male members of staff were on shift to look after her.
Ms Gordon was appointed by the council to check if authority-run care homes are safe under what is known as Regulation 33 visit.
She said: "The fundamentals of a children's home is that you build positive relationships with the children and young people who are in those homes, and you can only do that if you have consistent people looking after them.
"It's very much a two-way process, so I felt concerned about the high use of agency staff and the fact that there didn't seem to be structured staffing arrangements in place."
Although the children's day-to-day needs were met, the lack of management meant their long-term care was in question, added Ms Gordon.
A council spokesman said: "We are aware of a number of concerns and recognise that the level of care wasn't good enough.
"This is exactly why we took decisive action to start the process of closing these homes."